The Pyramids of Egypt:Giza, Saqqara, and Dahshur, Egypt
Pyramid of Giza
The only wonder of the ancient world to have survived nearly intact, the Pyramids at Giza embody antiquity and mystery—and their logic-defying construction continues to inspire plenty of speculation. The funerary Great Pyramid of Cheops (or Khufu) is the oldest, and it is also the largest in the world, built circa 2500 b.c. with some 2.3 million limestone blocks, weighing an average 2.75 tons each and moved by a force of 20,000 men. Two smaller pyramids nearby belonged to Cheops's son and grandson. Lording it over them all is the famed Sphinx (Abu al-Hol or "Father of Terror"), which you can learn more about—along with something about pharaonic history—during the booming, melodramatic, but surprisingly entertaining nightly sound-and-light show. Still, the pyramids are most magical at dawn and dusk, or when bathed in moonlight and silence, after the last tourists have gone.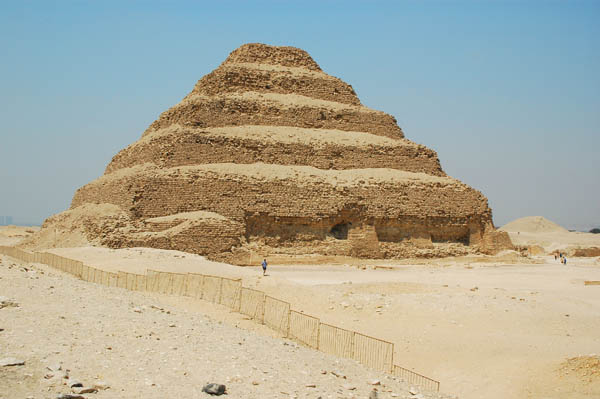 Ancient Saqqara
As greater Cairo's population approaches 20 million, growing suburbs infringe on Giza's former isolation, but 20 miles south by car, less visited and even older pyramids pierce the sky. The most famous is the Step Pyramid designed for Pharaoh Djoser by Imhotep, Egypt's most beloved architect, priest, and healer. Archaeologists are still uncovering intact tombs around the Step in the complex of Saqqara, the cemetery of Memphis, which was the capital of the Old Kingdom from 2575 to 2130 b.c. Farther south, the Dahshur pyramid field attracts still fewer visitors. Ticket lines won't be long to visit this site's steeply sloped Bent Pyramid and to descend the thrilling—though tight—staircase into the Red Pyramid, Egypt's first "true" pyramid with smooth sides. Both predate the Giza pyramids by 50 to 100 years. The elegant and recently restored 19th-century Mena House is set within 40 acres of manicured parkland less than half a mile from the Giza Pyramids. The wondrous monuments loom in full, unobstructed view from many rooms, the breakfast terrace, the nine-hole golf course, and the garden-enveloped swimming pool. The hotel's original wing was where Churchill and Roosevelt initiated the plans for D-day and where Begin and Sadat signed the 1978 peace treaty between Israel and Egypt. Back in Cairo, many of the palatial rooms in the Four Seasons at the First Residence have more distant pyramid views.
Dahsur Pyramid
Where: Giza Pyramids are 11 miles/18 km southwest of central Cairo; it's another 20 miles/32 km to Saqqara and Dahshur.
Oberoi Mena House: Tel 20/2-3377-3222; in the U.S., 800-562-3764; www.oberoimenahouse.com.
Cost: pyramid-view rooms from $320 (off-peak), from $465 (peak).
Four Seasons at the First Residence: Tel 20/2-3567-1600; in the U.S., 800-819-5053.
Cost: pyramid-view rooms from $600. Best time: Nov–Mar to avoid scorching summer weather.